Date/Time
Date(s) - 16/04/2020
9:30 am - 4:00 pm
Location
The Hewett Academy
With Andrew McDonnell
Spend a day being guided through a range of writing activities from short stories, via poetry to writing dialogue. Over the day we will look at examples of writing and undertake tasks to get you into a routine of writing. By the end of the day you will have some writing strategies that you can take with you to carry on writing. You'll learn how poetry, prose and dialogue can inform each other, what 'show-not-tell' means and how best to employ it, and have the chance to share your work with others.
Fun and informative, this class will give you the chance to be creative and start your journey as a writer.
About the tutor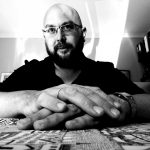 Andrew McDonnell is a published poet and writer of short fiction. He is the course leader for English Literature and English Literature with Creative Writing at University Centre Peterborough. His latest book, The Somnambulist Cookbook was published by Salt in June 2019. He co-runs Gatehouse Press and is the steering editor for the award winning Lighthouse Literary Journal.
Categories
Bookings