Date/Time
Date(s) - 01/11/2023 - 20/12/2023
7:00 pm - 9:00 pm
Map Unavailable
Location
Bluebell Community Centre
Dressmaking for Beginners with Laura Bright – Bluebell, Community Centre, Dogsthorpe
Sewing your own clothes is a thoroughly rewarding, enjoyable and addictive hobby. On this eight week course, you will learn how to get the best out of your sewing machine and learn dressmaking skills and techniques in a fun and friendly atmosphere.
Course Content
This course is entry level and designed for people who want to learn basic sewing terminology, technique, tool fundamentals, fabric cutting and pattern reading. It is ideal for people who have never sewed or who are beginner sewers looking to improve their skills.
This 8-week interactive course combines theory and practice, and will cover:
Essential sewing tools and sewing machine fundaments
Stitching varieties
Fabric types and behaviours
Pattern reading
Cutting techniques
Sewing a variety of seams
Basic zip insertion
Making and attaching pockets
Sewing fasteners
Button holing
Sewing hems and attaching decorative edges
Sewing darts, pleats, and gathers
Taking body measurements
Adapting patterns to fit
Equipment required
Sewing machine (essential)
Snippers or embroidery scissors
Seam ripper
Pins and pin cushion
Bobbins
Thread (spooled)
Cutting scissors
Tape measure
Pencil and notepad
(Haberdashery provided)
About the Tutor – Laura Bright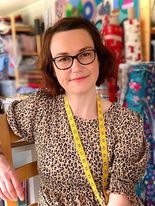 Like many people, I found sewing in some of my darkest hours. My mum lent a sewing machine and gently nudged to give it a go whilst recovering from a family trauma – I became instantly addicted. There was something about the creativity married with the mathematics and logic that drew me down its rabbit hole.
Desperate to know more, I went to college where I studied sewing technique and fabric fundamentals. I was trained to pattern cut and to design clothing from block.
I started a small sewing business in 2018, mostly hiring bunting to weddings, but began retailing during the pandemic as the wedding market crashed. I now work full-time sewing and am blessed that my hobby has become my livelihood.
My business predominantly makes reusable fabric bags. In the past 12 months I have worked with companies such as the Royal Scotsman to repurpose their old uniforms, I also design make up bags for the English Mineral Makeup Company.
I like to make clothing when I am not sewing for work. I design and make outfits for all the little people in my life. I enjoy costume design and I also love to rummage through a good charity shop to find preloved clothes to alter.
Sewing is my life, and to have the opportunity to gift the pleasure of this pastime to others is a privilege.
Covid guidelines:
Please test yourself before attending each class. If you have any symptoms of Covid, please don't attend and contact admin@thepublichousenorwich.co.uk so the administrators can let the tutor know you will be unable to attend.
Categories
Bookings
Do you already have an account with us?
Sign In
Log in if you already have an account with us.